Berlioz Requiem Special Concert, Summer 2012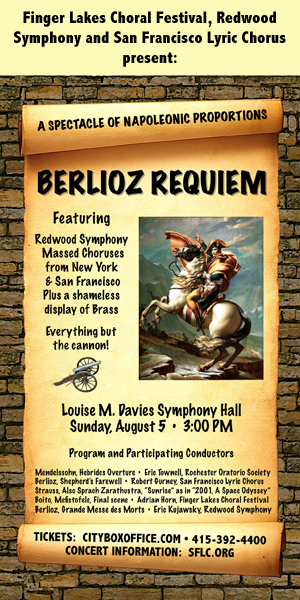 In the summer of 2012, San Francisco Lyric Chorus joined with the Finger Lakes Choral Festival (New York) and Redwood Symphony (Redwood City) in co-sponsoring a rare performance of the dramatic Berlioz Requiem at Davies Symphony Hall. With a 100+ member symphony orchesta, including four brass choirs, and over 200 singers representing 35 SF Bay area choruses and a number of choruses from upper New York state, we brought audience to its feet!
"Sunday's Berlioz Requiem and more in Davies Symphony Hall — consisting of some of the "biggest" music in all literature — exceeded all expectations." – San Francisco Classical Voice
Read the Livingston County News for the New York participant perspective.
Read or print the concert program.
San Francisco choristers rehearsing the Berlioz Requiem
Here's our standing ovation at Davies Symphony Hall
And the view from the audience…